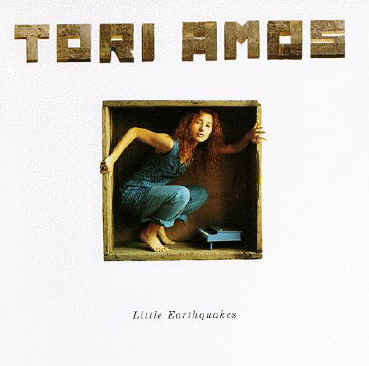 LITTLE EARTHQUAKES (1992)

1. Crucify
2. Girl
3. Silent all these Years
4. Precious Things
5. Winter
6. Happy Phantom
7. China
8. Leather
9. Mother
10. Tear in your Hand
11. Me and a Gun
12. Little Earthquakes


Special thanks to Eric, Mom and Dad, Mike Marie and all theirs,
my nice manager Arthur Spivak, Al Schlesinger, all who worked on
this record in any way, Cindy Palmano, Ian, Diana, Cin, Beene,
the ECHT couple, Steve Chapman, Al and Kris, Ranz, Dane Blair,
Jason Flom, Arun the Masterman, Stagg, Strawberry,
Puddles in Belfast and all at East West Records UK, Max,
Doug, and the Faeries.
ALL SONGS WRITTEN BY TORI AMOS
PUBLISHED BY SWORD AND STONE
Art Direction and Photography: Cindy Palmano.
Design: Alan Reinl.
Box and wooden lettering: Will Wentworth
(P) (C) 1992 Wea International Inc. A Time Warner Company.